"Pick up, clean-Up after yourself". I am 100% sure that every child went through this, when growing up. Parents made sure that this was drilled into one's mind on a daily basis. It appears that even our environment has reached a level that is impacting our current and next generation. When the first climate change summit was held many decades ago, all invited countries made submissions and suggestions to lower the challenges face by planet earth.
When I started hearing or learning about the effects of pollution and climate change back in my days in high school. I honestly didn't understand why leaders from various countries, can actually have a conference or summit on the environment. I only realized years later when I was in varsity that those submissions, suggestions and recommendations made by those great leaders were actually true, but needed to be implemented by the human population.
Almost three decades later our very own Prime Minister of Eswatini declared that Cabinet Ministers, together with community members of the Eswatini society have a monthly "Clean Eswatini" campaign.  This declaration was made in June of this year. So the idea or mandate was that "Clean Eswatini" should happen every last Saturday of each month. This past weekend, All Out Africa volunteers and staff members joined the community of eBuka under the Lobamba Constituency in cleaning the streets.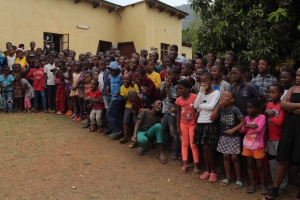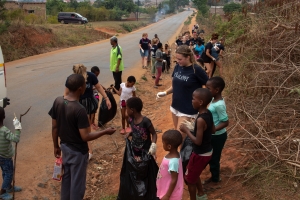 When we arrived just after 8 am, it seemed like the community members started early, judging on the amount refuse bags filled with waste plastic and paper. What made it more mind blowing was that all refuse bags where neatly placed on top of each other? Most of the collected waste had a central drop off point/facility that we call in Eswatini a "Gogo Centre". Gogo Centers are where most community meetings are held and are always located at the central part of a particular community. So refuse bags where place just outside this facility's gate. After the waste collection, community leaders and members gathered and community leaders thanked all participants involved. One of our volunteers spoke about "how she enjoyed this morning's clean-up campaign, and how community was welcoming throughout the morning"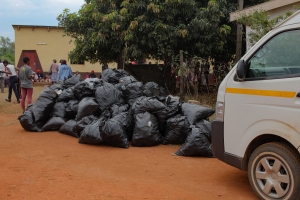 Our next "Clean Eswatini" campaign will be on the 30th November 2019 and we are hoping for another successful one.  If you would like to join us in the next clean up, please contact info@alloutafrica.com
Written by Tjengisa Dlamini, All Out Africa Social Project Coordinator
https://alloutafrica.com/wp-content/uploads/2019/11/IMG_6246.jpg
3456
5184
aoa
/wp-content/uploads/2015/09/All-Out-logo_transparent_2.png
aoa
2019-11-08 08:10:14
2019-11-08 08:10:14
Pick up, clean-Up after yourself