Why should I go hiking with my family?
We know that many people have never considered hiking and camping with their family before, but Eswatini has many beautiful spots and these are waiting to be explored by families of all shapes and sizes!   Here are answers to some of the common questions that many families have about hiking.
We've never thought about hiking and camping with our family before.  Why it is so much fun? 
As well as learning lots of fun facts from your lead hiking guide about nature, there is the potential to spot wildlife – in Lubombo there are zebra, wildebeest, impala, kudu, bushbuck, giraffe, klipspringer, monkey and baboon hiding out in the bush.  For families with older children, it is often the challenge of completing the hike.  For those with little ones, it might be taking them an adventure and trying something new.  For all families, we notice it is doing something completely different from home life and spending time together.   Sigs, who hiked with us with her 3-year-old son recently, said that for her "It's about sharing values that I can pass on.  I can teach my child how to enjoy nature.  I grew up with it.  It is an adventure."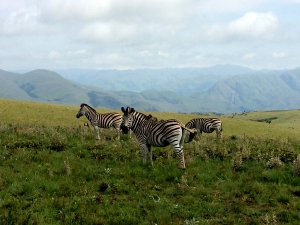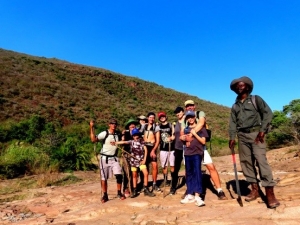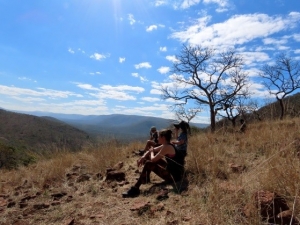 The children are young so it really possible to do a hiking and camping weekend trip?
We can tailor-make any hike by discussing the fitness and likes of your group so that the experience works for you.   Some are athletic and happy to carry little ones, but it's not for everyone.   Camping is great fun for small children, especially if there are some marshmallows to cook on the campfire.  Sigs said "My son is 3.  He is young, so needs to be carried so take this into account on longer hikes.  But he does like it and it works if you take "petrol" (rewards!) as he can walk and enjoy it.  He really loves the camping – the fire, the evening under the stars and camping.  Chose the hike that suits your family, don't choose something that is too strenuous as no-one enjoys it.  It is an adventure and if you don't want any hassle then the slackpacking adventures with All Out Africa work well."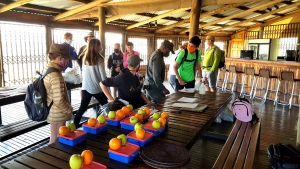 We're not all super-fit so won't it be too difficult? 
Our advice is that you know your limitations and those of each member of your family.  It is possible to make a plan for different needs within a group, as long as we know in advance.  We have an experienced team and are happy to chat about your family and make a plan that suits you.
The great thing about our hiking and camping "Slackpacking" trips is that we tailor them to every family.  We understand that every family is different – single-parent families, blended families and extended families to name but a few, ensuring that our experiences are open to everyone. Contact us tours@alloutafrica.com to plan your next family adventure.
https://alloutafrica.com/wp-content/uploads/2020/09/119613593_10158400426455661_9058221723564625750_o.jpg
1152
2048
aoa
/wp-content/uploads/2015/09/All-Out-logo_transparent_2.png
aoa
2020-09-17 10:12:58
2020-09-17 10:19:18
Why should I go hiking with my family?