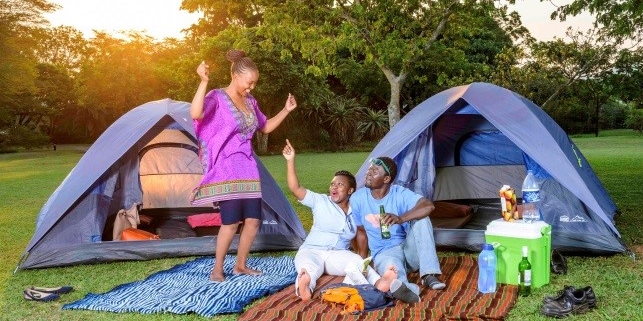 What is All Out Africa's Pop Up Camp Service and why will it work for me?
All Out Africa have recently promoted the Pop Up Camp service or Tent Hire Campsite service in Eswatini but why would you book such a service and exactly what does it involve?  All Out Africa Bushfire Festival Campsite GM Jackie explains more.
It has been incredible seeing so many people exploring Eswatini since lockdown, and the increased interest and enthusiasm for enjoying beautiful places in Eswatini.  However, many are only visiting for a day, and our Pop Up Camp Service means that staying overnight is another option.  We know that many are not used to camping and our service means that we take that worry away, and enable you to enjoy time with your family or friends.
Why do people want to use our Pop Up Camp Service?
Spend time with loved ones doing activities that you enjoy, or trying something newer, rather than setting up camp. Often groups are only away overnight so time is precious.
Get the experts to do it if you don't feel as if you have the skills or experience to set up camp properly, or are worried that you might damage the tents if you have never done it before. It removes the stress; you are heading for time away, after all.
Get the experts to do it and save your energies for exploring and hiking, making the most of your campsite destinations.
Avoid that inevitable argument – we've all been with our loved ones when that happens!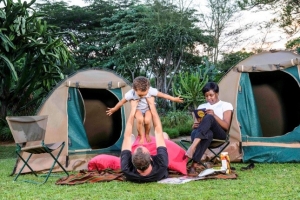 So what does the service involve?
Transport of the kit to and from the place of your choosing (the great thing is you decide, we don't tell you where to go).
Set up of tents, in a nice layout, with mattresses and pillows ready for your guests to use.
The takedown of the tents after you have departed (we ask that this time allows our team to have time to take down camp in daylight hours).
Cleaning of tents and kit in line with COVID19 standards, so you don't have to worry about this.
What about meals?
That is totally up to you.  Like at our Bushfire Campsite people can bring their own braais, use facilities on-site (depending on where you decide to visit) or use local restaurants (if there is one on-site).  This means you can arrange meals that suit your budget and food that suits your tastes giving groups the flexibility over timings and how they split cooking and shopping.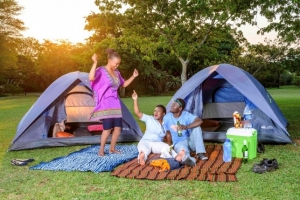 What do we ask our guests to do?
Apart from letting us know when you plan to travel, the number in your group, where you want to go and the type of tents you would like, all we ask is that guests adhere to a few things:
Don't smoke in the tents.
Don't set fires within 5 meters of the tents.
Move your own belongings in and out of tents.
Don't keep food inside tents – as this encourages wildlife to visit, and you really don't want a monkey rifling through your belongings!
Respect the rules of the lodge, campsite or reserve during your stay, including adherence to COVID19 protocols.
Take away your rubbish or put it in the designated bins helping to keep Eswatini beautiful.
Where can we stay?
It is totally up to you, but there are some great camping spots in Eswatini with access to a range of activities as well as western-style toilets and shower facilities.  For example, Wide Horizons Retreat has fantastic night sky views, an interesting sculpture trail and hiking routes, and Lidwala Lodge has a small swimming pool, climbing frame for kids, and the Sheba's Breast Hiking Trail.  We can set up anywhere in Eswatini so let us know what works best for you and your group.
So how you do make it happen?
Once you have spoken to others in your group, get in touch with the All Out Africa team.  Please email tours@alloutafrica.com and we will get in touch.  We are open Monday to Friday, 8:00 am -5:00 pm.
https://alloutafrica.com/wp-content/uploads/2020/10/camping-1.jpg
429
643
aoa
/wp-content/uploads/2015/09/All-Out-logo_transparent_2.png
aoa
2020-10-16 13:11:58
2020-10-16 13:11:58
What is All Out Africa's Pop Up Camp Service and why will it work for me?