Finally, back in the ocean!
Hello everyone, I'm Giustina and for the next three months I'll be working with All Out Africa in Tofo, Mozambique! How awesome is that?! It is not my first time here in Tofo. I had the chance to come here two years ago to do my Divemaster training with the guys from Peri-Peri Diving Center. During the course, I went on ocean safaris and diving several times. Basically, I was in the ocean with all of its wonderful creatures including Dolphins, Mantas, Turtles, and the most magnificent and elusive of all, my much loved WHALE SHARK. And of course as the days passed by the more I fell for it.
Once I finished my course, and went back home in Italy, I felt like I left a piece of my heart back in Tofo, in the ocean so full of life and mystery, I still had a lot of questions about the marine life, so I decided to start my master's degree in Marine Biology. So here I am, back in Tofo. I couldn't wait any longer to go back in the ocean!
Finally! After waiting for so long, the day arrived! On a splendid sunny morning, with a perfect calm and flat sea, we went for a dive at one of the best places to spot Mantas, Manta Reef. The boat ride was smooth and on the way to the reef we got the chance to get a quick tan and chat a bit. For some of volunteers it was their first deep dive so they were excited, of course! On our way we were also looking for whale sharks, dolphins, or tunas jumping out of the water. But unfortunately, we weren't lucky enough to see any megafauna – the ocean is a big, big place after all. When we arrived at Manta Reef, we geared up, completed our safety check, and into the water we went!
As soon as we arrived to the bottom, we were surrounded with a massive school of Yellow Snappers and with 5 Potato Bass, as big as me! The dive proceeded well – we saw a Green Turtle, a Mantis Shrimp, a Dragon moray eel and hundreds of butterfly and surgeon fishes. Manta Reef was like an aquarium that day! But, unfortunately, no Mantas! But hey! We know the Mantas are around. I'm sure they had an appointment somewhere else that day!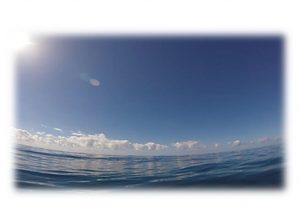 Once on the way back, we looked over the edge of the boat for big Whale Shark shadows in the water. We didn't give up searching the water for Whale Sharks until we returned to the beach, but our search was not fruitful.
We were so determined to find megafauna that day that, we went back out on the water on an ocean safari. As soon as we turned around the end of the point that bounds Tofo Bay, we found a pod of Bottlenose Dolphins! YAY!! We slipped into the water to swim with the dolphins. As you may already know, dolphins tend to tease you by swimming by and saying "look at me!", then disappear as soon as they arrived. But not this group! This pod gave us an amazing encounter! The dolphins swam with us for more than 20 minutes! We took a few pictures, and then continued on our safari. The safari was pretty quiet after we spotted the dolphins. We saw a few tunas jumping, a few flying fishes, and then had a brief snorkeling stop at Praia de Rocha. On our way back to the beach, we took a water sample and enjoyed a beautiful sunset from the boat. We had a very nice day and I am thrilled to finally be back in the ocean!
https://alloutafrica.com/wp-content/uploads/2015/09/AOAweb2017_500x2-thumb2.jpg
1389
1389
alloutafrica
/wp-content/uploads/2015/09/All-Out-logo_transparent_2.png
alloutafrica
2017-05-30 07:50:48
2017-05-30 07:52:54
Finally, back in the ocean!