Challenge Yourself by Challenging Others
Swaziland –  the country of the mighty mountains, giant giraffes, and Swazi smiles – was new to all of us. In the heart of Southern Africa, many people suffer on a daily basis, but few stand still. They seek a brighter future, a prosperous future for their kids, family, community, and country. Yet they are so welcoming, open minded, and eager to learn from others. And now imagine how rewarding work as a volunteer for All Out Africa in Swaziland can be. 
Three weeks ago, our journey in Swaziland had begun with a lot of excitement. We were about to go on our very first game drives in Hlane National Park, whilst also discovering the Ezulwini Valley. The staff was very welcoming, and the accommodation was better than we had all hoped for. Frankly, I never knew that sleeping in tents would be this comforting.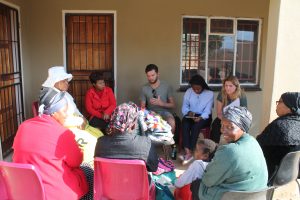 After these first few days of warming up in Swaziland, the project took off. Me and my teammates got the objective to create a plan for women to be empowered through the use of micro credits. With only a group of women to work with, everything else had to be build from scratch. 
Back home we had been challenged before by putting theory in practice. Coming to Swaziland, we knew that most of our expertise in business would be useless here. In this part of the world, different practices will determine the success of this project. What a challenge it was, changing our mind set into a completely different one. Adjusting rapidly, acting quickly, and creating thoroughly. Little did we know that it would result in one of our most exciting tasks of our young, but still challenging lives.
Working over hours in the office, determined to come up with a plan that will hopefully help a lot of starting businesses in Swaziland grow more rapidly using micro credits. By cooperating with a pilot group of women, we challenged each other to put in our best effort, by stepping out of our comfort zone, and by working towards our end goal. It really made us believe that our hard work reflected on the women we had been working with. They eventually exceeded our expectations. We challenged them, they challenged us, and together we accomplished more than we had ever imagined on beforehand. 
Within three weeks we created a plan to empower women in Swaziland, put this plan to test by cooperating with our pilot group, and even got this group to sign AOA's first micro loan agreement. Exciting stuff, isn't it?
Do not ever think that you are not able to make a difference. If you are willing to put in your best effort, you will be able to change the world for the better. On top of that, you will leave the country of the mighty mountains and giant giraffes with a never fading memory – and a Swazi smile, of course.
–Kai Vlastra | Business & Development Intern (2017)
https://alloutafrica.com/wp-content/uploads/2017/08/20643531_1593592137337887_8129970913835417726_o.jpg
1319
1319
aoa
/wp-content/uploads/2015/09/All-Out-logo_transparent_2.png
aoa
2017-08-17 09:01:42
2017-08-17 09:01:42
Challenge Yourself by Challenging Others