Mozambican school children explore marine biology in Tofo with AOA Marine Research Centre and Biofund Inhambane
Following the awesome success of our capacity-building AOA funded places on marine field techniques courses for Mozambican university students, we at the AOA MRC thought we wouldn't stop there.  We partnered with the awesome Biofund initiative to bring school children from all over Inhambane province to Tofo for the day for a marine biology experience with us as part of Biofund Inhambane in August 2018.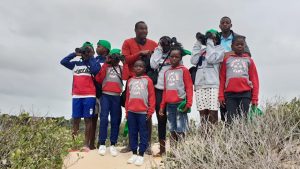 Biofund is an inspiring Mozambique-wide initiative supporting the operation costs of the Conservation Areas of the country and running week-long symposiums, exhibits, and educational activities across every province in the country, explaining and demonstrating Mozambican biodiversity to the population. Understanding and seeing the value in the biodiversity that Mozambique has is the first step on the road to engaging actively in sustainable development and use of natural resources.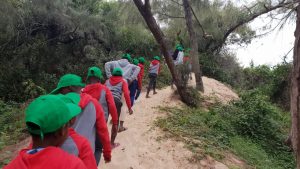 As part of Biofund Inhambane, some of the children who came to Tofo to spend time with AOA MRC were seeing the ocean for the very first time!  Spending time with marine biologist Jorge Sitoe on a program designed by AOA MRC research director Katie Reeve-Arnold, the school kids all got to see and help monitor humpback whales from the dunes!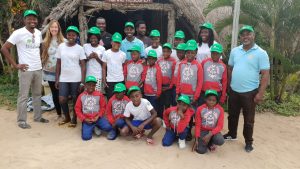 Next came a session on beach plastics, marine pollution and the negative implications for both wildlife and ourselves.  Then a microscope session with Jorge looking at plankton, the small plants, and animals that form the base of the marine food chain and learning that these are what our Tofo marine giants, whale sharks and manta rays, are eating.  And finally, some artwork time in our Tofo-based marine research office, putting some of the things they had learned down onto paper, a fun way to make what they had learned stick in their minds.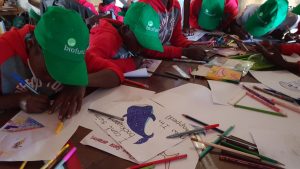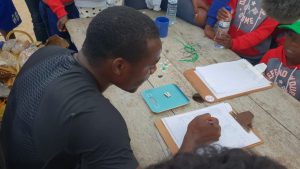 We all had a wonderful morning and it was inspiring to see the next generation of Mozambican conservation biologists getting excited about understanding and looking after the marine environment.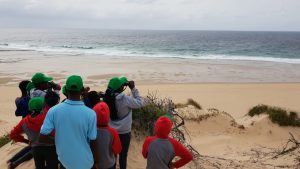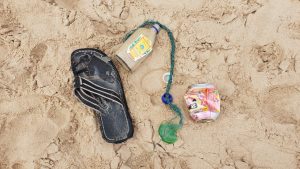 Thank you to the wonderful Mario Fumo for the photos of the day that accompany this blog.
Written by Katie Reeve-Arnold, Project Coordinator | Marine Research & Whale Shark Conservation, Mozambique
https://alloutafrica.com/wp-content/uploads/2018/08/IMG-20180813-WA0008.jpg
720
1280
aoa
/wp-content/uploads/2015/09/All-Out-logo_transparent_2.png
aoa
2018-08-27 14:30:36
2018-09-07 07:22:15
Mozambican school children explore marine biology in Tofo with AOA Marine Research Centre and Biofund Inhambane