My name is Kyle Salek, I am an Environmental Geography student at the University of Wisconsin – Eau Claire. It is my goal to become a Marine Scientist specializing in megafauna. I believe that making scientific data accessible and digestible to the public is an incredibly important role that young scientists must take initiative in, and I love using my artistic and geographic background to provide a different perspective on environmental issues.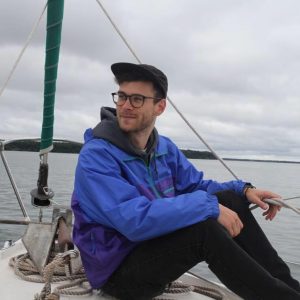 I traveled to Tofo, Mozambique, Africa in July of 2017 and worked with All Out Africa as a volunteer, collecting data on the region's marine megafauna. While I was there I also worked on a solo research project guided by Katie Reeve-Arnold (Director of All Out Africa Marine Research Center in Tofo) and Karen Mumford (Director of the Watershed Institute and my faculty research mentor) based on tourism and support for marine conservation. The avenue of data collection was via a tourism survey. I approached tourists in Tofo and asked them to take the survey, with which I gathered demographic information, economic data, the purpose and duration of their visit, tourist activities, perceptions and interest in the local culture, and their support for marine organisms and conservation.
The goal of the project is to get a better understanding of tourist behaviors and perceptions in Tofo, Mozambique. All Out Africa is currently undergoing a year-long tourism survey that my project served as a pilot for. The data from this survey will inform All Out Africa, the local businesses, and the Mozambican Government on tourist behaviors and potential policy decisions based on tourism and marine conservation. This tourism project will be used in collaboration with geospatial data on individual encounters with marine megafauna in the region. Eventually, the data will be brought together to create a platform for a valuation study of the marine megafauna to the Mozambican economy. Ultimately, the end goal is to propose a marine protected area off the coast of Mozambique, using the data processed and analyzed by myself and All Out Africa.
Since my visit in July 2017, I have been presenting the data in various formats in the United States. Currently, the data has been presented by myself in poster format as well as in an oral presentation accompanied by a PowerPoint at professional research conferences. The poster was also shown at the BIOFUND exhibition on August 8th, 2018, in Inhambane, Mozambique. The results of the study have been well received and will continue to be built upon, presented, and eventually published.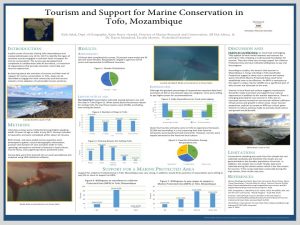 It is my opinion that the region off the coast of Mozambique being studied by All Out Africa is of extreme importance and is a strong candidate for conservation. There are several natural processes that work in a symbiotic fashion to allow for a healthy and unique marine ecosystem to thrive. The geographic landmasses of Africa and Madagascar create a channel of ocean water that increases oceanographic activity. The unpredictable and strong ocean currents lead to the formation of gyres. These gyres are uplifting mechanisms that bring nutrients like nitrogen and phosphorous up from the seafloor into the photic zone. This leads to a strong presence of plankton, which allows for filter feeders like the Whale Shark and Manta Ray to comfortably find food year-round. This, in addition to healthy coral reefs and diverse populations of fish and other marine life, make for a strong marine presence.
It is important to be gathering data and to consider conservation now as Mozambique is in a great position to take advantage of EcoTourism. The issues presented with this type of industry are based around mismanagement, and the unpredictability of marine wildlife, the climate, and tourist behaviors. Engaging in research narrows the gap between irresponsible growth and responsible growth. It is also incredibly important to ensure that the tourism infrastructure and growth model do not alienate the local culture, economy, and identity but empowers and lifts them instead. This project aims to create a strong knowledge-base that allows for the future growth of Mozambican tourism to follow sustainable development goals.
This work was presented at the CERCA in the state in association with Eau Claire University and Biofund Conference Inhambane and is co-authored by Kyle, Katie and Kyle's Eau Claire supervisor.
If you would like to join this project and contribute to our research in Tofo click here!
https://alloutafrica.com/wp-content/uploads/2018/09/DSCN9539.jpg
3456
4608
aoa
/wp-content/uploads/2015/09/All-Out-logo_transparent_2.png
aoa
2018-09-28 08:52:53
2018-09-28 08:52:53
Tourism & Support For Marine Conservation