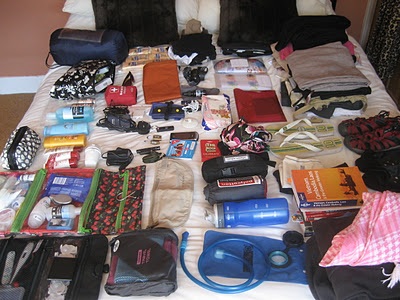 TOP 10 THINGS TO PACK FOR VOLUNTARY PLACEMENTS
I recently had quite a few inquiries about what to pack when volunteering abroad. Don't worry, I won't bore you with detailed long lists (and of course I have those as well as an organised German), but I thought that it might be helpful if I publish a list of my personal top 10 must-have items to pack when volunteering abroad. There are of course different types of voluntary placements, from building houses in Tanzania, to working in animal sanctuaries in the Bolivian jungle, or the one I did, which was an office based placement at a local NGO. My list is therefore for office based placements.
You may have seen my post about packing up our lives before we left England for Cambodia. Well, now that my placement has finished a few months ago I went back to my initial packing list and have noticed that I took quite a few things with me that weren't really suitable for the volunteering placement I did. I didn't need my mosquito net for example, as my apartment in Phnom Penh has integrated mosquito nets in the windows, and so have most hotels in Cambodia actually. I didn't need half of the medication I took either. As a former girl scout I like to be prepared for any eventuality, so I basically raided my local pharmacy in Bedford before we left. I ended up throwing most of the stuff away when it expired and haven't replaced it since. I also didn't need half of the creames or cosmetics that I took either. So out of the many things I took what actually turned out to be really useful? Here is my list of what to pack when volunteering abroad?
My original packing list
REMEDIES
Mosquitos love me. I usually have at least 10 bites on my legs at any given time. Now I took 100% deet with me, which really helped, however the little buggers always find the one spot on your body you haven't covered. If you scratch the bites it will leave scars, but how do you stop the itching?
The answer is Tiger Balm.
It relieves you of any itching instantly and is cheap. Tiger balm is also good for headaches, muscle pains, smelly public toilets or back pain.
CLOTHES
Working in the communications industry is considered a "creative" job and in Europe you therefore get away wearing what you want, even jeans. I thought that it would be the same case for my voluntary placement as a comms advisor. I am a volunteer after all, so surely they wouldn't expect me to wear suites, right? Well I was wrong. My organization in Cambodia had a really strict dress code and I didn't take anywhere near enough smart clothes with me, as I was expecting to be able to wear T-Shirts and cargo pants. I ended up having to buy quite a lot of blouses and another pair of trousers here, which really annoyed me as it was an expense I could have avoided. If you are a volunteer and on a tight budget every penny counts. So what should I have bought with me? 
Loose blouses: Cambodia is hot, so I didn't want to wear any tight shirts. If you can get your hands on some loose blouses made out of chiffon, linen or similar material, then these will be your best friends.
Linen trousers: I couldn't have worn suit trousers either, as they would have been too hot for me too. Yes, I am not very good in the heat! My linen trousers were cool and comfy and also looked smart.
Cargo trousers: I wasn't allowed to wear them in the office, but they were fine for field trips. They also come in handy if you are going to do some traveling during or after your placement.
Sandals: I needed a comfortable and breathable pair of office shoes. I didn't want to take heels with me, as they'd just give me blisters in the Cambodian heat, they would have made me look like a giant and take up a lot of room in the backpack. So I took a pair of Dr. Scholl sandals
with me. They were extremely comfy, have never given me any blisters, and also looked fairly smart. I even wore them going out – yes I have no shame!
I also had to do the odd field trip to visit some of the projects we were working on in the countryside. For those trips my KEEN trekking sandals
were perfect. Not as hot as proper trekking boots, but still sturdy enough to navigate the unpaved roads of the Cambodian countryside.
GADGETS
Swiss Army knife with cork screw: I remember it to this day. There we were, two poor volunteers who lived off jam sandwiches for a month to save enough money for a bottle of wine. We were so excited. The bottle looked gorgeous, but wait, there was something missing. We didn't have a corkscrew. Doh! It took me 8 months to find a shop in Phnom Penh that sells cork screws. Now I have got one I see them everywhere of course. However had I taken my Swiss Army knife with me, we would have been able to have that bottle of wine we were looking forward to so much.
Skype headphones: There are internet cafes in Cambodia, but not all provide headphones. So if you don't want the rest of the cafe to hear your conversations with your loved ones, I recommend you take some small headphones. They don't take up much room either.
Mobile phone: I took my mobile from the UK. It was quite old, so I wasn't bothered about loosing or breaking it. I didn't use it much to phone friends or family back home, but it became invaluable for phoning local estate agents to find apartments, tuk tuk drivers, take-aways or for using it as an alarm clock.
Camera: I am obsessed with taking photos. Photos are such a nice reminder of all those things you have experienced, whether that is places you have visited, adventures you undertook or people you met. I took a point and shoot camera with me, and recently also bought a Canon EOS 1100d
DSLR camera, as the photos are so much better. I take the Canon PowerShot
point and shoot camera out with me in the evenings and the DSLR during the day.
There you have it, my personal top 10 of what to pack when volunteering abroad? What's on your list?
This post has been taken from an external blog for you to read. Find more great travel blogs by Tammy & Chris here!
https://alloutafrica.com/wp-content/uploads/2018/10/packing.jpg
300
400
aoa
/wp-content/uploads/2015/09/All-Out-logo_transparent_2.png
aoa
2018-11-20 06:58:03
2018-10-15 07:00:26
TOP 10 THINGS TO PACK FOR VOLUNTARY PLACEMENTS