THE NEIGHBOURHOOD CARE POINTS(NCP's)
As an intern from a local university, at All Out Africa, I have had the opportunity to work together with international volunteers. The exposure of working together from different cultural backgrounds is one of the greatest things to be exposed to. Sharing our stories on our different cultures, educational background and activities we engage in. Working together as a team to accomplish the desired outcome which is to make a difference, not only in the children's lives but also the community at large. This may include trying to reduce the social, economic and environmental issues faced by the country. These may include in building of classrooms, childcare. Thanks are in order to the volunteers as well as the potential sponsors, that some of these challenges are being attended to.
Through the assistance of the Neighbourhood Care Points (NCP's) coordinator Eunice, and NCP Teacher Nokuthula, who is stationed at the Mahlanya NCP, the volunteers and I were able to do the daily routine. Assisting the teacher in teaching the NCP children and as well as engaging in the extracurricular activities which included sports and story reading. This experience with the kids shows that education is important, being in a classroom setting reading numbers and the alphabet to gain knowledge. The involvement of sporting activities is also an essential part of the learning process as it is one way of refreshing the mind. This is to say that not only is the focus on one thing but room for creativity is also opened so they are able to go an extra mile in reaching the goal.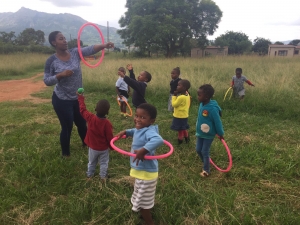 However, in as much as there are great experiences with the NCP children, it is not always a walk in the park taking care of them. There are challenges that the teachers face as they care for the children. For example, one of the challenges may be that a child is allergic to more than one thing. Or, you may find that a child has lost his parents, and is living in the care of extended family. A child may even be a victim of neglect and or malnourishment. This all has a negative impact on their learning process as well as the ability to explore new environments. You would think that activities in a preschool are just child's play, not so, instead it is one of the things that draw your attention to say hey wake up and smell the coffee. Take a look at our surroundings, keep an open mind, and be aware and ready for new experiences. It has taught me to keep in mind that we all need each other, in one way or the other.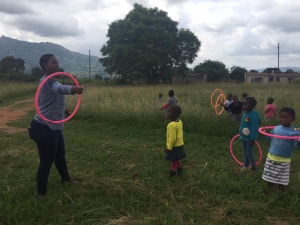 Written by Nokwetsemba Penelope Lukhele (Marketing Intern 2019)
https://alloutafrica.com/wp-content/uploads/2019/03/IMG-20190221-WA0008.jpg
1200
1600
aoa
/wp-content/uploads/2015/09/All-Out-logo_transparent_2.png
aoa
2019-03-04 11:34:51
2019-03-04 11:34:51
THE NEIGHBOURHOOD CARE POINTS(NCP's)