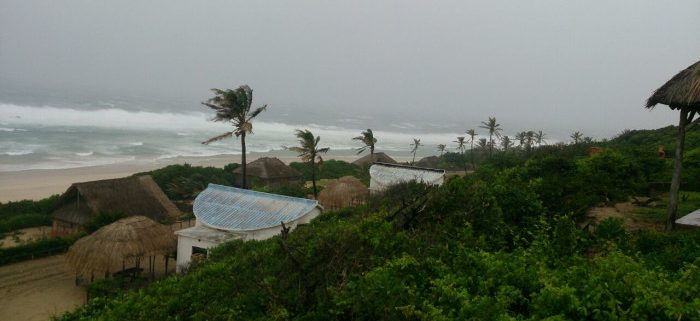 Post-Cyclone Salon Reef Succession / Sand Displacement Study Analysis
Post-Cyclone Salon Reef Succession / Sand Displacement Study Analysis: Feb-July 2017
After Cyclone Dineo effected change on the coast of Tofo on the night of 15th February 2017, a succession study was commenced by All Out Africa Marine Research Centre (in collaboration with Peri-Peri Divers and Tofo Scuba, and with full approval of Diversity Scuba and Liquid Adventures). Salon was used as the study site due to proximal location, ease of repetitive access, with results indicative of cyclone-related sand movements at other reefs in the Tofo area.
A combination of diver-operated video-transects and sunken concrete-anchored metal rods were used to measure newly exposed rock resulting from sand removal and progressive replacement of sand to the heavily-scoured reef over time.
Our results demonstrate that an average of 23.667cm depth of sand was removed over the time-span of the cyclone from salon reef. This sand would either be replaced or the bare rock potentially colonised and succeeded-upon by marine organisms. Our study was set up to monitor which occurred. Our measurements indicate that within 4months of the disturbance event over 88% of the sand removed had been returned to salon reef (figure 1). This leaves only an 11.8% deficit between pre- and post-cyclone sand distribution on salon reef, and our results indicate more scouring but faster recovery of sand to the north-east of the reef. The sand initially returned slowly, at an average of 1.4mm per day initially, however between mid-may to mid-june significantly higher volumes of sand were deposited at an average of 3.1mm per day.
Figure 1: Percentage of cyclone-removed sand returned to Salon Reef, June 2017.
While Cyclone Dineo did effect change to the sand and sedimentation structure of Tofo's reef, homeostatic forces have almost returned the sand distribution to pre-cyclone levels. While this is only one facet of the changes effected, the ability of a reef to return in all ways to pre-disturbance level and the rapidity with which this occurs is a key indicator of the health of the system. That salon reef is projected to return to its pre-cyclone sand distribution levels less than 6 months after Cyclone Dineo indicates a healthy system returning to its norm. This, however, also means that newly exposed surfaces theorised for reef colonisation within the Salon site are now buried and so no longer available for succession.
Thanks to all dive centres for their support in this, and to All Out Africa Marine Research Centre volunteers, staff and collaborators (G. Barone, R.Newbigging, L. Jensen, J. Keeping and K. Reeve-Arnold) for all data collection.
https://alloutafrica.com/wp-content/uploads/2017/07/ubeey0a3e3g2vizx4oc4.jpeg
437
700
aoa
/wp-content/uploads/2015/09/All-Out-logo_transparent_2.png
aoa
2017-07-18 10:26:58
2017-07-18 12:45:26
Post-Cyclone Salon Reef Succession / Sand Displacement Study Analysis