Meet The Staff – Tristan Diedrick
At All Out Africa, there are many things that set us apart. One of them is our fantastic team! That's why we decided it was time to sit down with our staff and have them answer a few fun questions about why they love what they do!
Today we are highlighting Tristan Diedrick, our Cape Town Volunteer Coordinator, she manages all Cape Town projects and makes sure that volunteers are placed at their suitable projects. From orientation on day one, she is the first staff member that greets you each morning and makes sure you have plenty of fun activities to keep you busy!
TRISTAN DIEDRICK (VOLUNTEER COORDINATOR CAPE TOWN)
What is your favourite thing about your job?
Cape Town is the most beautiful place I've been to so far, so waking up every morning and coming to our office with a beautiful view has to be my favourite thing.
When was a time you thought to yourself "wow, I love what I do!"
It has to be all the unplanned fun evenings we have at Hout Bay Backpackers with our volunteers and guests. We make a fire during winter, sit on the balcony with a bottle of wine during summer, play uno, beer pong, watch movies and go out. Being so far from home becomes lonely at times, but when you have good company it makes everything betterJ.
Where is your favourite local hang out?
Rt's Pub and Grill. They are just up the road from the Backpackers, they have really good food and affordable drinks. They have recently renovated so they have a pool table and dart board now which allows me to show off my skills!
When you're not changing the world, what do you do for fun?
Cape Town is known for beautiful sunsets, so if it's a picnic at Champan's Peak, Cocktails in Camps Bay or sundowners in Llandudno I am game! Nqobile (Hout Bay Backpackers Lodge Manager) and I are always on the lookout for cocktail and food specials, so we are the go to people when it comes to that!
When you wake up in the morning what do you look forward to most?
Sitting in the office and looking at the ocean. I'm also always curious to see what challenges I am faced with for the day. Hearing about my volunteers day at projects and just interacting with everyone.
If you had a super power what would it be?
I would fly! Those who know me, know that I don't like to walk…. Anywhere haha! I would visit all of the incredible people that I have met so far J. It's always been my dream to travel the world, flying would make this possible.
If you were a volunteer with AOA, what program or tour would you sign up for? (and why?)
I would definitely sign up with Hout Bay APD (people with disabilities). Cape Town has everything…..from tourist destinations such as Table Mountain and Robben Island to safaris. I've been working with Hout Bay APD for 2 years now and the clients that go there are such loving, warm hearted, positive people despite their disabilities. You can learn so much from them by just talking to and interacting with them.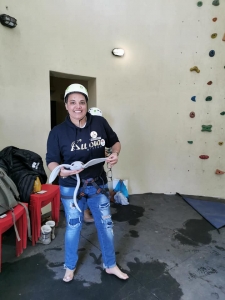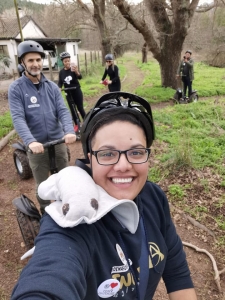 https://alloutafrica.com/wp-content/uploads/2019/10/tristan.jpg
312
820
aoa
/wp-content/uploads/2015/09/All-Out-logo_transparent_2.png
aoa
2019-10-01 10:04:43
2019-10-01 10:04:43
Meet The Staff – Tristan Diedrick