I sit in the shade of a mango tree with Mr. Tsabedze and Mr. Twala (representatives from the community traditional leadership) to my left and Tjengisa (Manager of Social Projects at All Out Africa) to my right. Before us, an assembly of 4-6-year-old kids, dressed in their best frocks, singing and dancing with varying degrees of gusto. They have a rhythm that comes naturally. It unifies them and ignites cheers and claps from the gathering of adults under this mango tree. Today the oldest kids in the group are graduating; their final year before formal school.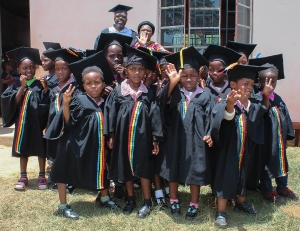 Only 2 out of 3 kids in Eswatini (Swaziland) attend a preschool of any sort. Studies show that this foundational phase of their education is so important for their overall educational success, which ultimately is their key to a bright future. This is the last of the graduation ceremonies for the 7 Neighborhood Care Points (NCPs) that All Out Africa is involved with. That's 113 disadvantaged children graduating with a solid foundation to their education, and moving into the formal schooling system! High five!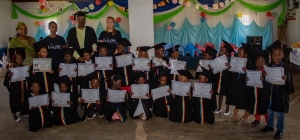 I find myself standing in front of the Mango tree gathering, at the invitation of Tjengisa who is directing proceedings.
"We're extremely proud of the children and how they've progressed over the year and wish them all the best for their formal education," I say. "A special thanks to our teacher and the cooks who have done so well to care for the kids. Siyabonga kakhulu bomake!"
I think back fondly to my pre-school days, also under a mango tree and not too far from this NCP, wondering what the future holds for these little lives. I thank our volunteers who help us make this program possible, one of whom is currently busy helping a child in tears. I soak in a moment of gratitude to be involved in such rewarding work and remain hopeful for a bright future for these children.
Written by Kim Roques, All Out Africa Founder 
https://alloutafrica.com/wp-content/uploads/2018/12/IMG_5786.jpg
2844
5183
aoa
/wp-content/uploads/2015/09/All-Out-logo_transparent_2.png
aoa
2018-12-06 06:41:16
2018-12-06 06:41:16
113 Reasons to be Grateful!