You are here:
Home
/
SWAZILAND CONSERVATION
OUR VOLUNTEERS HAVE SAID:
"Well organized and great structure of the programme. Loved the fact that the volunteering was combined with travelling"
Anon
OUR VOLUNTEERS HAVE SAID:
"Very diverse range of activities, huge wealth of knowledge"
Anon
ACCOMMODATION
The Savannah Research Centre (SRC) hosts our conservation work and team and is located in the Lubombo Area of Eastern Swaziland, within Mbuluzi Nature Reserve. The camp has semi-permanent tents with mattresses and pillows, but your own sleeping bag is required. The reserve has no lion, elephant or rhino, making it a relatively safe environment to explore on foot or by bike!
Flush toilets and hot showers are on-site, and there is limited electricity provided by a solar power and a generator. Lanterns are provided although a headlight or torch is still very useful to bring. The camp also has a house with an area for lectures/study, a kitchen and deck area to relax and an awesome campfire
MEALS
Volunteers, interns and students receive 3 meals a day when joining an All Out Africa experience. These meals are provided at the SRC and are eaten together on the communal decking area.
Breakfast is self-service from a selection of items including cereals, bread, fruit, yogurt, eggs and spreads. Lunch too is self-service from items such as bread, ham, cheese, salad and fruits. Dinner is a cooked meal which clients may assist with cooking on a rotational basis. Types of dishes served include pasta, stir-fry, braai (BBQ) and stew. Vegetarians and most food allergies can be catered for.
LOCATION
The conservation project is located in the 60,000 ha Lubombo Conservancy of north eastern Swaziland which contains lion, rhino, elephant, giraffe and a whole host of other big game. This area of Swaziland is particularly rich in threatened species, and forms part of the Maputaland centre of endemism (one of the global "hotspots" of floral and faunal species richness and endemism).
OTHER PROJECTS YOU MAY BE INTERESTED IN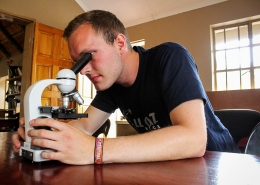 https://alloutafrica.com/wp-content/uploads/2019/03/IMG_9705.jpg
1728
2592
aoa
/wp-content/uploads/2015/09/All-Out-logo_transparent_2.png
aoa
2019-04-01 09:49:27
2019-03-26 10:32:00
Ecosystem Services
Volunteer Projects Contact
+268 2416 2260
bookings@alloutafrica.com
Adventure Tours contact
+268 2528 3423
tours@alloutafrica.com